Welcome to Slaughter Supply
Slaughter Supply offers mortuary equipment and funeral supplies. Shop for the best quality mortuary coolers, autopsy tables, body lifts, cadaver carts, and embalming instruments at competitive pricing. Our family has been manufacturing embalming tools for over 100 years. We are continuing the tradition of providing outstanding service and delivering unbeatable supplies to the funeral and mortuary industry.
Do you have a question about our financing plan and products we carry? Contact us today and our knowledgeable team will happily answer your questions!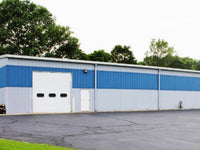 Why Choose Slaughter Supply?
Slaughter Supply brings over 100 years of experience in the embalming instrument manufacturing space. The Slaughter Instrument Company was founded in 1914 and has been providing the highest quality mortuary supplies and equipment since.
We provide the most reliable tools for prep rooms, laboratories, and embalming stations. From small tools like needles and injectors, to large equipment like body coolers and embalming tables, we have you covered.
Learn More